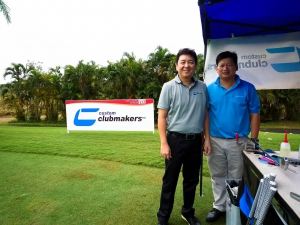 Custom Clubmakers specializes in Custom-fit and Custom-built golf equipment. Founded in 1990 by Barry J. Harris in PengChau, Hong Kong, and was launched in 1998 in the Philippines by Francis S. Go.
Francis, President of Custom Clubmakers International Philippines, underwent training programs in Hong Kong and the United States before opening their first shop at Shaw Blvd, Mandaluyong City. Custom Clubmakers began providing quality club repairs, clubfittings, retro-fitting and custom-building of golf equipment to both golf professionals and amateurs alike.
In 2003, Jake Ong, a then Certified "Class A Clubmaker" and Master Clubfitter, moved from Custom Clubmakers Hong Kong to Manila, to run their second shop at the Makati Golf Club.
The company's mission is:
"To contribute to the game of golf by providing professional clubfitting, clubmaking, and club repair services at the highest standards."
In the 21 years of operation, Custom Clubmakers has been awarded several times for having two of its partners, Francis Go and Jake Ong, as part of the elite World's Top 100 ClubFitters. They are also founding members of the International Professional Association of ClubFitters (IPAC).